NYC DESTINATION WEDDINGS

Are you from another state, or even another country, but you still wish to get married in NYC? No problem!
New York has no residency requirement for marriage, so NYC is the perfect "destination wedding" location.  I have married many couples from out of state and from other countries (including Australia, Belgium, Canada, China, Ecuador, France, Ireland, Japan, Luxembourg, Sweden, Trinidad & Tobago, and the UK).
"We had no idea where to start and what to do as we are from two different continents. Peter guided us through the entire process... his words were personal, befitting the ceremony, our culture, our reason for marriage...We recommend Peter highly, no matter what continent you are from" -Eveline (wedding: 11/27/16)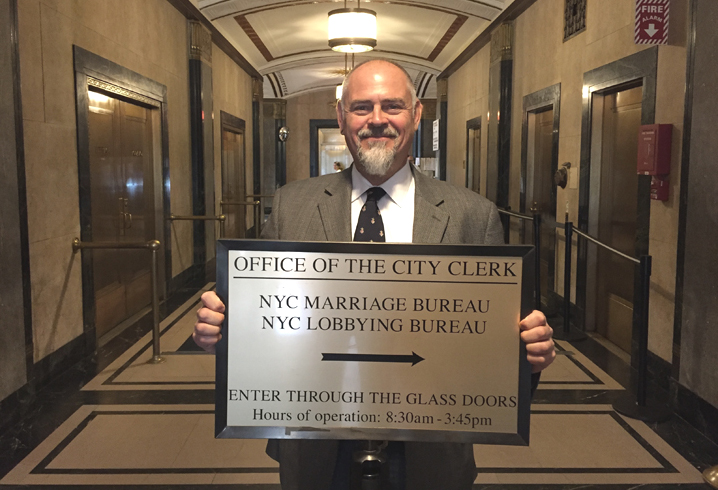 Here are a few things you need to know to get married in New York City:
You must get your Marriage License at the City Clerk's Office, in person, together.  You can apply for a Marriage License online, but you will still need to go to the City Clerk's office together, with valid identification, to complete the process. The online application is valid for 21 days before it expires. If you don't make it to the Clerk's office in that time, you can reapply online. We recommend that you take advantage of the online system, as our couples who have used it report speedy service from the Clerk.
The City Clerk's Office IS NOT OPEN ON WEEKENDS OR HOLIDAYS. Please remember that when you are making your travel plans.
THERE IS A 24 HOUR WAITING PERIOD from the time you receive your License to the time you may wed. Please keep that in mind, too, when making your travel plans. Also, licenses expire after 60 days.
You will NOT receive a Certificate of Marriage right after your ceremony.  Usually it takes about two weeks for the documentation to be sent to you from the city.  If you need documentation sooner than that, you should discuss this with the clerk when you apply for your license. If you are from another country, please be aware that Certificates of Marriage are issued in multiple forms. The extended form for foreign use costs $35. Please check with your local government which form you will need to register your marriage in your home country before you visit the City Clerk.
Other than that, it is all quite simple, so why not make your dream New York City Wedding a reality?
Contact me directly at peter@nyc-gay-weddings.com